Magnetic acoustic localisation
Wireless localisation systems aim at finding the 1D, 3D or even 6D positions of one or several objects in a defined detection space. For such systems CEDRAT TECHNOLOGIES has developed innovative active detection techniques using both emitters and receivers, based on either magnetic or acoustic effects.  
Typical new applications are:
underground urban pipes localisation based on low-frequency acoustic emission
object localisation and identification using tags based on Magnetic Resonant Sensors
6D localisation for Computed Assisted Medical Interventions in surgery and robotics …
1m-range 6D Magnetic Alignment Localisation & Tracking (MALT) System for XRay imaging 
For any further information feel free to visit our publications section.
ROXTAR PROJECT: MAGNETIC ALIGNMENT LOCALISATION & TRACKING (MALT) SYSTEM

In the frame of ROXTAR, a MINALOGIC project dedicated to develop the next generation of XRay sensor for medical application, it has been spotted by our partner TRIXELL the interest to develop the capability of a blinded alignment between the imager and Xray emitter. Cedrat Technologies (CTEC) designed and developed an accurate contactless magnetic long range (1.5 m) alignment function, based on magnetic technologies.
Magnetic alignement, localisation, tracking, detection, X-Ray machines
SURGIMAG Surgery Magnetic Localizer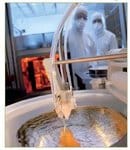 SURGIMAG is a workstation for Computer Assisted Medical Interventions, aiming at wireless real-time 6dof localisation by electromagnetic fields. In SURGIMAG, CEDRAT TECHNOLOGIES has developed the multiaxis magnetic coil emitters and sensors with high SNR electronics offering very high spatial resolution.
Magnetic localization in Surgery robotics, CAMI, magnetic-guided motion
Magnetic Resonant Sensors

Magnetic resonant sensors are remote passive magnetic field sensors with an integrated antenna for data transfer
Magnetic sensor, Positioning system, Identification system…

WATER TRACKER tracks and localizes urban water pipes using acoustic waves. The WATER TRACKER emitter is an APA®-based transducer operating at low frequency with high amplitude vibrations for long range sound emission.
Acoustic localisation of pipes, High Power Low Frequency Transducer…