Bio Medical & personal assistance
(34)

(3)

(138)

(12)

(4)

(152)

(10)

(55)

(61)

(11)

(13)

(12)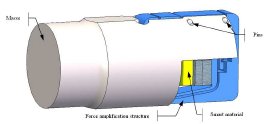 Mechanical structure with high force amplification ratio for low frequency piezoelectric harvester application
A mechanical structure based on serial stacking of level arm has been designed in order to amplify the ingoing force of the the harvester system. The outgoing force is applied upon the smart material. The deformation of the mechanical structure is based on flexural pivots using four truncated circular collars. The last amplification is based on the APA® (Amplified Piezoelectric Actuator) shell and already patented solution by Cedrat Technologies. The force amplification structure has been designed upon the request of a small volume allocated (0.3 cm3) and low frequency resonance (20 Hz) harvester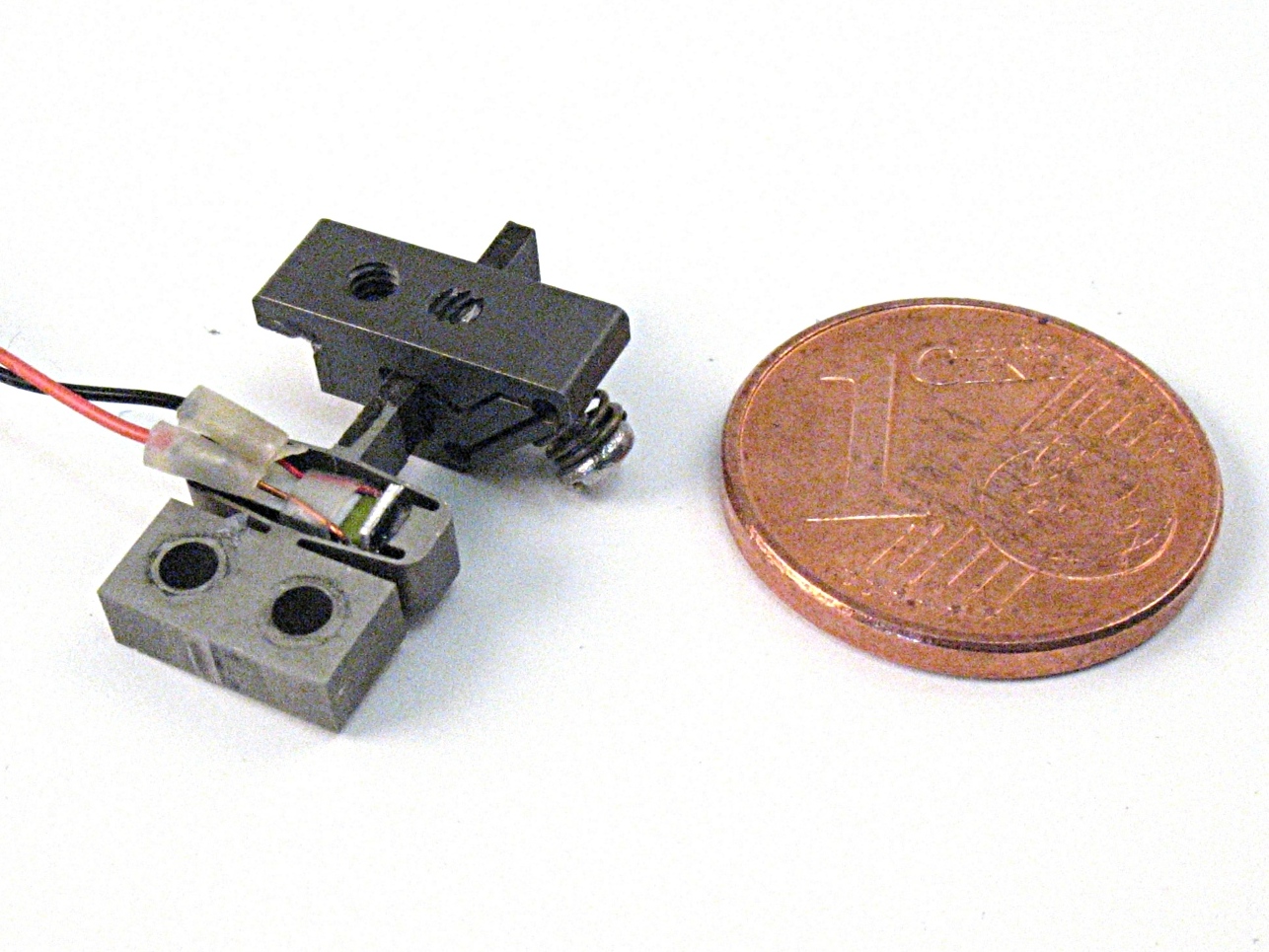 Modular Test bed for Performance Assessment of Piezoelectric Stick-Slip Actuators
Stepping piezoelectric actuators based on the stick-slip effect inherently make use of a friction contact between stator and rotor. This contact defines not only the actuator's performance but also is prone to wear and tear. For broad use, the actuator has to be able to perform around 1 million strokes. To assess the actuator's performance in terms of force, speed, mechanical output, electrical input, and long-term stability under different load- and environmental conditions, as well as different friction partners, a dedicated test-bed for a LSPA30µXS motor by Cedrat Technologies has been set up.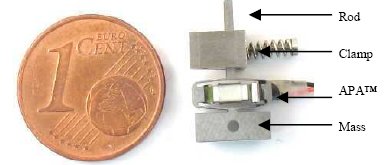 MRI compliant micro-motors for medical and biomedical applications
The performances offered by Magnetics Resonance Imaging (MRI) are widely recognized and used by practitioners. Mainly used for diagnostic issues, MRI becomes more and more an interventional tool in image-assisted classic or robotic surgery. However, constraints imposed by the MRI strong magnetic field and strong magnetic gradients in terms of material and architecture are often obstacles to MRI guided robotics. Designers have to deal with the few choices offered to them to build a robot which will be able to respond to severe specifications, in terms of space limitations, magnetic field sensitivity and image impact. Piezoelectric micro-motors are good candidates to fulfil these requirements in several fields of applications.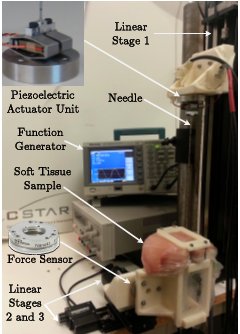 Analysis of Needle–Tissue Friction during Vibration-Assisted Needle Insertion
In this paper, a vibration-assisted needle insertion technique has been proposed in order to reduce needle–tissue friction. The LuGre friction model was employed as a basis for the current study and the model was extended and analyzed to include the impact of high-frequency vibration on translational friction. Experiments were conducted to evaluate the role of insertion speed as well as vibration frequency on frictional effects. In the experiments conducted, an 18 GA brachytherapy needle was vibrated and inserted into an ex-vivo soft tissue sample using a pair of amplified piezoelectric actuators. Analysis demonstrates that the translational friction can be reduced by introducing a vibratory low-amplitude motion onto a regular insertion profile, which is usually performed at a constant rate.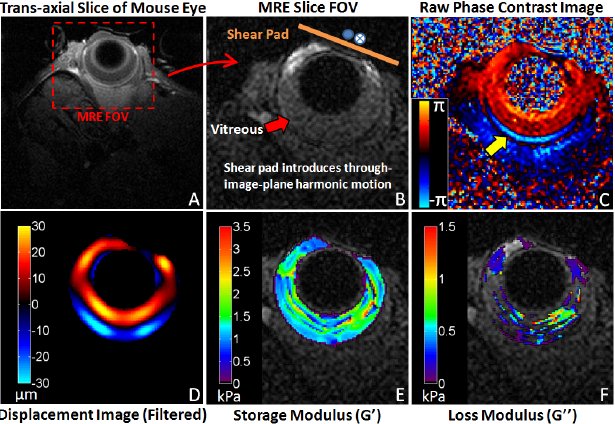 Non-invasive Measurement of Vitreous Humor Stiffness in the Mouse using MR Elastography
In vivo, non-invasive measurements of the stiffness (elastic modulus) of biological tissue can be performed with magnetic resonance elastography (MRE). Many studies have illustrated the versatility of MRE; stiffness estimates have been obtained from liver, muscle, breast, brain and heart. Tissue health or disease is often indicated by its stiffness. In many cases tissue health is determined through invasive biopsy, which can subject the patient to discomfort and various risks. Non-invasive procedures, such as palpation, are qualitative, suffer from patient-to-patient variability, and are impossible in deep tissue. Furthermore, these measurements often only provide results in localized regions. However, with the continued development of MRE equipment and protocols, regional non-invasive measures of stiffness are becoming feasible in most soft tissues. In this study we demonstrate the measurement of loss and storage modulus of vitreous humor of the mouse eye using MR elastography non-invasively, in vivo.