(34)

(3)

(138)

(12)

(4)

(152)

(10)

(55)

(61)

(11)

(13)

(12)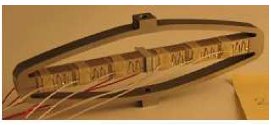 Manufacture and properties of first industrial actuators APA® using carbon epoxy SHELLS
Future aeronautics will more often use electrical actuators in order to replace hydraulic actuators. Existing Amplified Piezo Actuators APA® with steel shell, delivering among the highest mass energy densities, are good candidates. Lighter carbon shells are developed to further increase their efficiency. For helicopters rotor blade application this evolution is almost unavoidable but is also very interesting for other domains. High modulus and high tensile strength carbon fibres shells have been produced by conventional filament winding, tested and compared.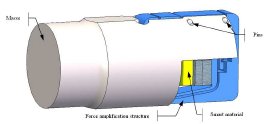 Mechanical structure with high force amplification ratio for low frequency piezoelectric harvester application
A mechanical structure based on serial stacking of level arm has been designed in order to amplify the ingoing force of the the harvester system. The outgoing force is applied upon the smart material. The deformation of the mechanical structure is based on flexural pivots using four truncated circular collars. The last amplification is based on the APA® (Amplified Piezoelectric Actuator) shell and already patented solution by Cedrat Technologies. The force amplification structure has been designed upon the request of a small volume allocated (0.3 cm3) and low frequency resonance (20 Hz) harvester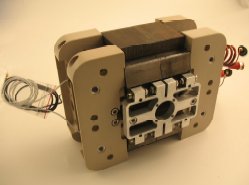 MICA actuator: highly dynamic controllable magnetic actuators
Moving Iron Controllable Actuator is a concept of linear magnetic actuator that is especially designed to respond to the need of highly dynamic controllable actuators. The article presents the specificity of the actuator compared to more classical magnetic actuator concepts. It points out the interest of its properties and describes technological issues it implies. A MICA prototype has been built and its main performances are given: 800N, 20A, with a size 160*200*150. The controllability of the actuator has been demonstrated by simulation using force characteristic of MICA. Finally, the prototype will be declined in a full range of magnetic actuators as products of Cedrat Technologies.