(34)

(3)

(138)

(12)

(4)

(152)

(10)

(55)

(61)

(11)

(13)

(12)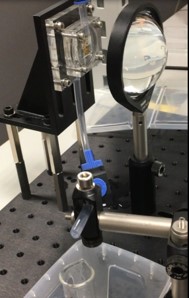 New range of light driven actuation devices
The recent progresses made in the manufacturing of new plasmonic photomobile films are offering innovative solutions for light induced motion actuators and devices. Indeed, such films can be assimilated as transducers thanks to their ability to convert light into displacement with strokes up to several millimeters. By adjusting the incident light parameters (wavelength, exposure time…) the photomobile films actuation can be controlled to answer many applications requesting high displacements and low forces. In these regards, the behaviour of the photomobile films were characterized prior to their integration in more complex devices. Then, several proof-of-concepts of these devices were manufactured to try to bring new functionalities to the market such as light driven optical switch, optical micro-valve, and deflector: – The optical switch features interesting properties in term of electrical insulation by eliminating the dark currents responsible for noise in image sensors. It also exploits the large stroke of the photomobile films to achieve the standard electrical insulation distance versus emitter voltage. – Light driven micro-valves/micro-pumps are suitable for delivering a small quantity of fluids with high precision for example in medical devices. Using this technology, a fluid circuit can be opened and closed when light is switched from on to off (or inversely) without embedded electric power. – Optical deflectors are used widely in optical pointing applications where fast responses and/or high precisions are critical. An appropriate understanding of the photomobile films behaviour enables to control the direction of the beam deflection within large angular ranges.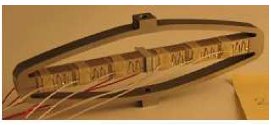 Manufacture and properties of first industrial actuators APA® using carbon epoxy SHELLS
Future aeronautics will more often use electrical actuators in order to replace hydraulic actuators. Existing Amplified Piezo Actuators APA® with steel shell, delivering among the highest mass energy densities, are good candidates. Lighter carbon shells are developed to further increase their efficiency. For helicopters rotor blade application this evolution is almost unavoidable but is also very interesting for other domains. High modulus and high tensile strength carbon fibres shells have been produced by conventional filament winding, tested and compared.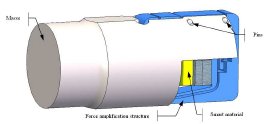 Mechanical structure with high force amplification ratio for low frequency piezoelectric harvester application
A mechanical structure based on serial stacking of level arm has been designed in order to amplify the ingoing force of the the harvester system. The outgoing force is applied upon the smart material. The deformation of the mechanical structure is based on flexural pivots using four truncated circular collars. The last amplification is based on the APA® (Amplified Piezoelectric Actuator) shell and already patented solution by Cedrat Technologies. The force amplification structure has been designed upon the request of a small volume allocated (0.3 cm3) and low frequency resonance (20 Hz) harvester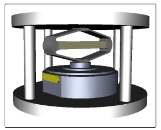 Mechanically amplified piezo tunable3D microwave superconducting
In the context of hybrid quantum systems, there is a demand for superconducting tunable devices able to operate in the single-photon regime. In this work, we developed a 3D microwave reentrant cavity with such characteristics ready to provide a very fine-tuning of a high-Q resonant mode over a large dynamic range. This system has an electronic tuning mechanism based on a mechanically amplified piezoelectric actuator, which can set the cavity resonance with a large dynamic range of order 1 GHz at 10 mK. At elevated microwave power, nonlinear thermal effects were observed to destroy the superconductivity of the cavity due to the large electric fields generated in the small gap of the reentrant cavity.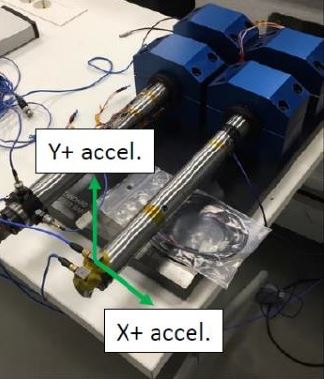 Mechatronic piezo mechanisms for active vibration control
The current trend in the market to solve long boring bar related chatter problems are passive dampers integrated in the boring bar, which has derived in patents and commercial products; This solution, however, is not feasible in very slender bars or trepanning operations, due to small space available in the tool. Active damping has been tested and indus-trialised in different applications, including machine tool structures, but never in internal turning tools. The application of active damping on boring bars has been proposed in several researches…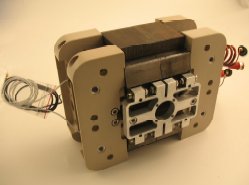 MICA actuator: highly dynamic controllable magnetic actuators
Moving Iron Controllable Actuator is a concept of linear magnetic actuator that is especially designed to respond to the need of highly dynamic controllable actuators. The article presents the specificity of the actuator compared to more classical magnetic actuator concepts. It points out the interest of its properties and describes technological issues it implies. A MICA prototype has been built and its main performances are given: 800N, 20A, with a size 160*200*150. The controllability of the actuator has been demonstrated by simulation using force characteristic of MICA. Finally, the prototype will be declined in a full range of magnetic actuators as products of Cedrat Technologies.